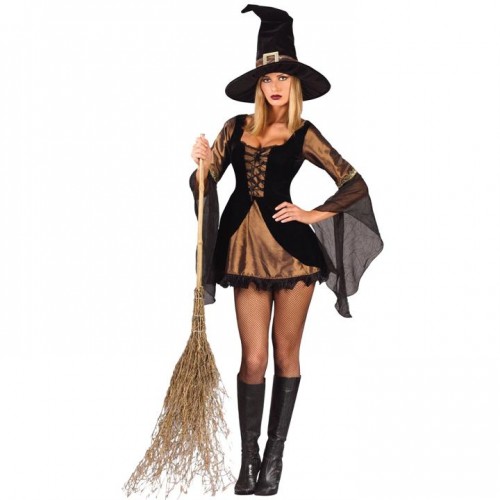 Now this is one story that hits close to home for me, but I'll save that for later.
It seems there is a healthy coven of witches in Alaska of all places as two of them were discovered in their birthday suits seemingly out on a lark in Africa's Shakleton compound. Wait, did I just say Alaskan witches…in Africa?
Mashonaland West provincial police arrested the women, 48 year old Rosemary Kamanga and 56 year old Esnath Maodza, both residing in the nearby Shackleton compound but said they had traveled from Alaska.
Let me see if I can get this right, they claimed to be from Alaska but were living in Shakleton? Well, as it seems, there is an Alaska in Africa! That's right folks, Alaska is a nearby compound to Shakleton.
It's all very confusing and I can only apologize because I couldn't find any data on the African Alaska.
The nude women were first discovered at around 4 am after another Shackleton resident, Eneresi Mufunga was awakened by what she described as the sound of fighting dogs. Upon investigation she found the two women outside her home and started to question them. After realizing that their answers were more than a little strange, Mufunga began calling for help.
It didn't take long for several people to come to her aid as we can see from the source artice:
'Naked witches' cause stir

CHINHOYI — Police in Mashonaland West on Monday arrested two women and charged them with allegedly engaging in a practice commonly associated with witchcraft after they stormed a nearby compound while stark naked.

Mashonaland West provincial police spokesperson Inspector Clemence Mabgweazara identified the suspects as Rosemary Kamanga (48) and Esnath Maodza (56), both of Shackleton compound about 20km from Chinhoyi. Police said the informant, Eneresi Mufunga (55), of Shackleton, was awakened around 4am by strange noises that resembled fighting dogs. When she went outside to investigate, she found two naked women and quizzed them on their mission.

Mabgweazara said the pair allegedly told Mufunga that they had fallen off a winnowing basket (rusero) on their way from a nearby compound in Alaska. They further told the woman that they wanted flesh from her. Mufunga raised alarm and alerted her neighbours who rushed to the scene baying for the duo's blood. According to eyewitnesses, the incident ignited a frenzy in the usually sleepy former mine compound.

Ironically, the suspects' husbands were among the crowd and upon seeing their naked wives, they whisked them to safety before taking them home where they were later clothed.

A report was made at Murereka Police Post leading to their arrest. Mabgweazara said when interviewed by police, the women confessed to practicing withcraft.

"They confessed to be witches and indicated they were coming from Alaska in a rusero and decided to get some human flesh at the informant's house," Mabgweazara said.

As of yesterday, the suspects were still detained at Chinhoyi Central Police Station and were expected to appear in court facing charges of contravening Section 98 of the Criminal Law (Codification and Reform) Act Chapter 9:23 pertaining to "engaging in practices commonly associated with witchcraft" or indecent exposure.
Charged with witch type crimes is apparently a big time no no in Africa.
Now, I had mentioned that this hits close to home in my opening. The reason I say this is because I dated a self proclaimed witch in my late 20s and I can attest to the fact that they don't like to wear clothes. In fact, that's one of the first things Jenny (not her real name) told me and she practiced nudity whenever she could. She was almost arrested on Ft. Lauderdale beach as she took her bikini top off to sunbathe.
She gave me a crystal necklace that I lost somewhere along the way. However, she left me with some interesting memories. Imagine a girl driving a car with no license plate and no drivers license and she was sure that the police couldn't even see her as she cast a "spell" of "protection" over the car? Maybe she should have sunbathed in her car, LOL! There were some other weird things that happened but I can't really get into all that.
That was one of my stranger relationships but she was stunning to look at and a 20 something year old guy can hardly be blamed. Now, because of my Faith and the fact that shallowness didn't suit me, our relationship failed. Plus, she was really bossy!
Anyone else have a run in with a witch or maybe you are a witch? Hey, let us in on it! Give us a shout out below. Just remember, don't walk around naked in Shackleton, especially if you are coming over from Alaska.
Thanks to my source, Newsday.co.zw for this revealing blurb.
Associated Content:
GT: Witches Graveyard Discovered in Italy
GT: 17th Century 'Witch Trial Diary' Goes Up Online
GT: Wales: Strange Police Calls
13 comments