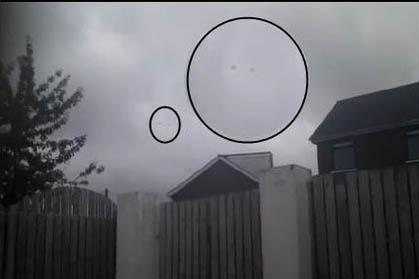 The following video was recently uploaded to YouTube and is said to show an unidentified flying object hovering around a police helicopter on the outskirts of West Belfast, Ireland.
According to the person who uploaded this video, the object seemed to be composed of three large spheres that appeared to be stuck together.
The outskirts of west belfast, beside black mountain, I couldnt comment on my phone, using freinds laptop, this is footage on a lost sd card from may, I record what is unusual everytime I see them. some maybe lanterns but i dont think so, this was not a disc, more like 3 black balls stuck together as 1, all my footage spans over a year and a half, ive huge french doors and u will see things as they come. some of my footage is at 4am around saturday night American boxing shows in UK.
The video has already begun to go viral, being posted on websites like IrishCentral and Examiner. I'm sure that by the time this post is published, more news sites will have this up on their front page. The Sun Newspaper Huffington Post is notorious for falling for these fake videos made specifically to go viral.
There seems to be a spike in UFO related news out in the web. I'm not sure what that says, but as software gets more advanced and easier for everyone to use, we're gonna start seeing more of these types of videos inundating the online news websites.
In fact, sometimes you don't have to go high-tech to make the front page:

Making a Ghost Appear in your Cellphone by jeaninespirited
6 comments