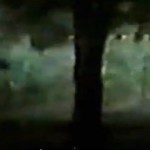 The following video was uploaded to YouTube under the title "Bigfoot Footage – Texas Fence Climber film". I've never seen this video before, nor have I heard anything about it in the Bigfoot/Sasquatch circles.
The poor quality video –aren't they all?– shows a supposed Sasquatch running through a habituation site somewhere in Texas. From the video you can see the humanoid creature running alongside the tree-line before stepping over a fence.
From YouTube:
BigfootBeliever2012

One of a series of films taken in a Texas Habituation site, this is the best known. Known as the Fence Climber, it has caused a stir recently. Some say it looks too much like a human to be a Sasquatch but the fact is that the fence is just over four foot tall, making the figure very large.
Not a very convincing footage, but there you have it. What do you make of it?
9 comments