A new report has a bluish fireball Seen Over San Francisco.
The Bay Area fireball blazed up around 7:45 p.m. local time Friday (10:45 p.m. EST; 0345 GMT Saturday), NBC Bay Area reported. The meteor apparently had a bluish tinge and was visible over a wide swath of the region, from Fairfield north of San Francisco Bay down to Gilroy, which is south of San Jose.
Reports ranging from 100 to 1000 injured as a meteor breaks up and explodes over the south western region of Russia.
By Natalia Shurmina and Andrey Kuzmin
CHELYABINSK, Russia | Fri Feb 15, 2013 10:44am EST



(Reuters) – A meteor streaked across the sky and exploded over central Russia on Friday, sending fireballs crashing to earth which shattered windows and damaged buildings, injuring more than 500 people.

People heading to work in Chelyabinsk heard what sounded like an explosion, saw a bright light and then felt a shockwave, according to a Reuters correspondent in the industrial city 950 miles east of Moscow.

The fireball, travelling at a speed of 19 miles per second according to Russia's space agency Roscosmos, had blazed across the horizon, leaving a long white trail in its wake which could be seen as far as 125 miles away.

Car alarms went off, windows broke and mobile phone networks were interrupted. The Interior Ministry said the meteor explosion had caused a sonic boom.

"I was driving to work, it was quite dark, but it suddenly became as bright as if it was day," said Viktor Prokofiev, 36, a resident of Yekaterinburg in the Urals Mountains.

WINDOWS BREAK, FRAMES BUCKLE


The blast at around 9.20 a.m. (12:20 a.m. ET) shattered windows on Chelyabinsk's central Lenin Street and some of the frames of shop fronts buckled. The shockwave could be felt in apartment buildings in the city's center.

"I was standing at a bus stop, seeing off my girlfriend," said Andrei, a local resident who did not give his second name. "Then there was a flash and I saw a trail of smoke across the sky and felt a shockwave that smashed windows."

Chelyabinsk city authorities urged people to stay indoors unless they needed to pick up their children from schools and kindergartens. They said what sounded like a blast had been heard at an altitude of 32,800 feet.

A wall was damaged at the Chelyabinsk Zinc Plant but a spokeswoman said there was no environmental threat.

Although a rare occurrence, a meteorite is thought to have devastated an area of more than 1,250 miles in Siberia in 1908, smashing windows as far as 125 miles from the point of impact.

The Emergencies Ministry described Friday's events as a "meteor shower in the form of fireballs" and said background radiation levels were normal. It urged residents not to panic.

(Additional reporting by Gabriela Baczynska in Moscow, Writing by Alexei Anishchuk and Timothy Heritage, Editing by Michael Holden)
Read the full story at Reuters
The Chelyabinsk meteor, reminiscent of the object that struck Tunguska in the beginning of the 20th, was estimated at 2 meters in diameter, weighing up to ten tons. By comparison, the Tunguska object was estimated at 100 meters in diameter, 50 times larger than the Chelybinsk and giving off roughly 1000 times the energy of the bomb dropped on Hiroshima, Japan.
The Tunguska event occurred near (and later struck) the Podkamennaya Tunguska River in what is now Krasnoyarsk Krai, Russia, on June 30, 1908 and lit up skies as far away as London. It took researchers ten years to get to the actual location and they found an estimated 80 million trees knocked down over an area covering 2,150 square kilometres (830 sq mi).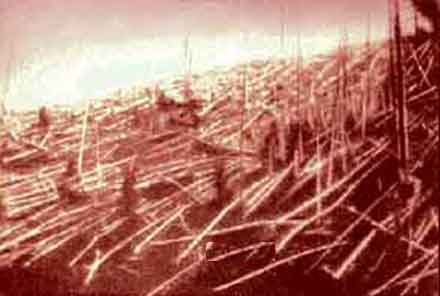 It has been only relatively recently that what is believed to be the Tunguska Event crater has been located.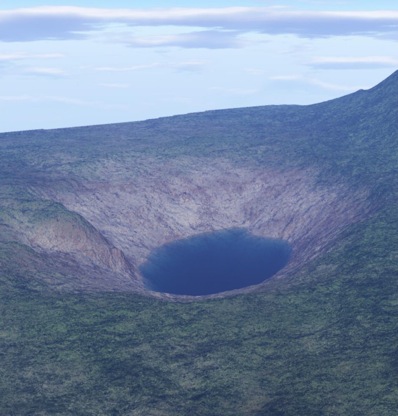 A fairly impressive hole considering that studies of the event have demonstrated that the object that fell over Tunguska did not strike the Earth, rather it exploded between 3 and 6 miles above the surface. Or roughly the altitude at which an airliner travels.
Not to be outdone, reports are coming in from Cuba:
"In a report released this morning by Rodas, town in the province of Cienfuegos, witnesses described a very bright light that has come to have large size, comparable to that of a bus, before exploding in the sky."
No detailed reports are available yet on Cuba.
Keep Watching the Skies!
3 comments