Just yesterday rumor ran across the internet of a Bigfoot having been shot by in central Pennsylvania by a turkey hunter. You can read that report Here.
I won't ruin the surprise for you, here is the updated report posted on the Pennsylvania Bigfoot Society Facebook Page: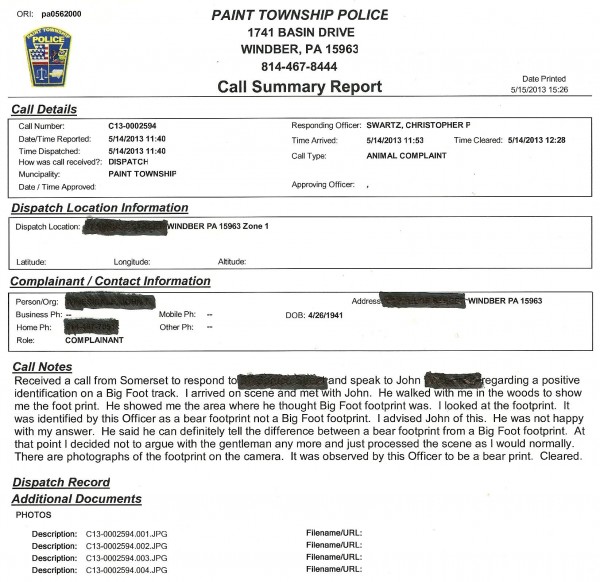 For those of you like me who have a little difficulty with small print, the investigating officer reports:
Received a call from Somerset to respond to (text removed) and speak to John (text removed) regarding positive identification on a Big Foot track. I arrived on scene and met with John. He walked wit me in the woods to show me the footprint. He showed me the area where he thought the Big Foot footprint was. I looked at the footprint. It was identified by this Officer as a bear footprint not a  Big Foot footprint. I advised John of this. He was not happy with my answer. He said he can definitely tell the difference between a bear footprint from a Big Foot footprint. At that point I decided not to argue with the gentleman any more and just processed the scene as I would normally. There are photographs of the footprint on the camera. It was observed by this officer to be a bear print. Cleared.
Here is the determining photo:
I am grateful to the PA Bigfoot Society for an excellent job of pulling the facts together on this one.
What's that you say?
What happened to the body?
Don't forget to visit Lindsay, say Hi and Like us on our Facebook Page.
6 comments