Metaphorically speaking.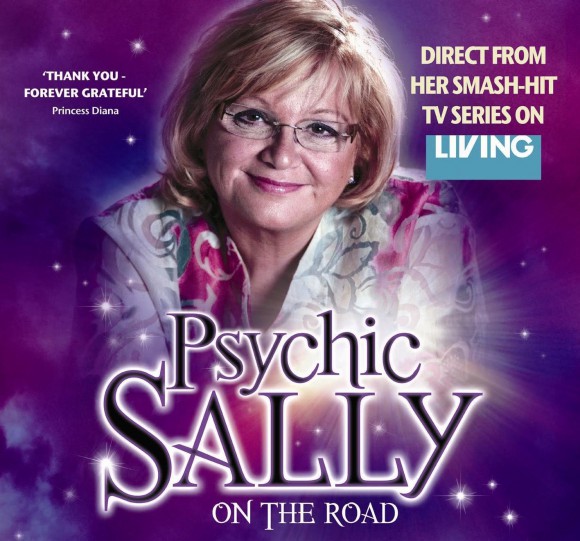 As a stage psychic, Sally Morgan is apparently in the habit of connecting people with the loved ones who have passed on. Old habits die hard, and can be embarrassing.
From MylesPower.com
 One aspect of the show is that audience members can submit photographs of dead loved ones, in the hope that Sally will select theirs, and give a psychic reading from it. Sally pulled out of a box on stage one of these pictures. She held the picture up to the camera and it was projected on the large screen behind her. The picture was of a middle-aged woman and by the clothes she was wearing and the quality of the image, I guessed it was taken some time in the 1990s. Sally immediately began to get communications from beyond the grave from a man holding a baby named Annabel……or was it Becky. Noticing that no one in the audience was responding, Sally asked the person who submitted the photo to stand up. A rather small chunky woman at the centre of the hall stood up and Sally once again began to get messages from the afterlife. She was informed that this man and baby were somehow linked to the lady in the picture. However the woman in the audience (who was now also projected behind Sally) disagreed and started to look increasingly confused….

Sally then became in direct contact with the woman in the photo who began to tell her that there was a lot of confusion around her death and that she felt it was very very quick. She later went on to say that the day Wednesday has a specific link to her death and that she either died on a Wednesday or was taken ill that day. As the woman in the audience was not responding to any thing Sally was saying, she decided to ask how the woman in the photo was related to her. It turns out the woman in the audience got the whole concept of submitting a picture of someone you wanted to talk to from the afterlife completely wrong – and for some unknown reason submitted a younger picture of herself.
Doh!
Time and again these predators are proven frauds, fakes, liars and thieves yet people are still desperate to flock to them for… what? Answers, hope, self delusion?
W.C. Fields said "You can't cheat an honest man." I don't know that that is true, but you certainly won't be cheated by one.
Follow us on FaceBook for updates and more.
17 comments