Among the more romantic suspects, and those which appeal to peoples need to believe in grand conspiracies were Prince Albert Victor, heir to the British throne and Lewis Carroll, author of "Alice in Wonderland." Some theories considered a woman as the culprit, then there was a man only known as The Lodger, popularized in an early film about the case. The most recent film, "From Hell" based on the Alan Moore graphic novel suggests his usual Freemasonry connection, resorting back to the conspiracy theory.
Despite that the case is almost 130 years old, and no one had any reason to look, new evidence has been found.
According to The Daily Mail Online:
Jack the Ripper unmasked: How amateur sleuth used DNA breakthrough to identify Britain's most notorious criminal 126 years after string of terrible murders

It is the greatest murder mystery of all time, a puzzle that has perplexed criminologists for more than a century and spawned books, films and myriad theories ranging from the plausible to the utterly bizarre.

But now, thanks to modern forensic science, The Mail on Sunday can exclusively reveal the true identity of Jack the Ripper, the serial killer responsible for at least five grisly murders in Whitechapel in East London during the autumn of 1888.
The top suspects considered by police at the time were:
Montague John Druitt
Montague John Druitt (15 August 1857 – early December 1888) was a Dorset-born barrister who worked to supplement his income as an assistant schoolmaster in Blackheath, London, until his dismissal shortly before his suicide by drowning in 1888.
Seweryn Kłosowski alias George Chapman
Seweryn Antonowicz Kłosowski (alias George Chapman—no relation to victim Annie Chapman) (14 December 1865 – 7 April 1903) was born in Poland, but emigrated to the United Kingdom sometime between 1887 and 1888, shortly before the start of the murders. Between 1893 and 1894 he assumed the name of Chapman. He successively poisoned three of his wives, and was hanged for his crimes in 1903.
Aaron Kosminski


Aaron Kosminski (born Aron Mordke Kozminski; 11 September 1865 – 24 March 1919) was a Polish Jew who was admitted to Colney Hatch Lunatic Asylum in 1891. "Kosminski" (without a forename) was named as a suspect by Melville Macnaghten in his 1894 memorandum. Assistant Commissioner Sir Robert Anderson wrote that a Polish Jew had been identified as the Ripper but that no prosecution was possible because the witness was also Jewish and refused to testify against a fellow Jew.
Michael Ostrog
Michael Ostrog (c. 1833–in or after 1904) was a Russian-born professional con man. He used numerous aliases. Among his many dubious claims was that he had once been a surgeon in the Russian Navy. He was mentioned as a suspect by Macnaghten, who joined the case in 1889, the year after the "canonical five" victims were killed.
John Pizer
John Pizer or Piser (c. 1850–1897) was a Polish Jew who worked as a bootmaker in Whitechapel. After the murders of Mary Ann Nichols and Annie Chapman in late August and early September 1888 respectively, Police Sergeant William Thicke arrested Pizer on 10 September 1888. Pizer was known as "Leather Apron", and Thicke apparently believed that he had committed a string of minor assaults on prostitutes.
You can read more of these and other suspects in the article on Wikipedia.
And the winner is?
Again from The Daily Mail Online:
A shawl found by the body of Catherine Eddowes, one of the Ripper's victims, has been analysed and found to contain DNA from her blood as well as DNA from the killer.

(Aaron) Kosminski has always been one of the three most credible suspects. He is often described as having been a hairdresser in Whitechapel, the occupation written on his admission papers to the workhouse in 1890. What is certain is he was seriously mentally ill, probably a paranoid schizophrenic who suffered auditory hallucinations and described as a misogynist
Look for the first time at the face of Jack The Ripper.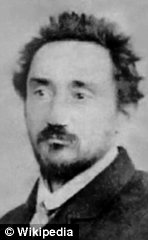 Follow us on FaceBook for updates and more.
16 comments