High up in the Ben Nevis mountain tops of Scotland, amidst the frozen cliffs and blowing winds, climbers stopped dead in their tracks. Suspended in tandem, they held their breaths and listened.  The bloodcurdling screams they just heard faded into the relentless winds that kept blowing. For climber Christopher Sleight and his partner, Scott, the scream they just heard echo though the mountain top was unlike anything they've ever heard before. Or since.
The ice was perfect and we were climbing well. I was on the the crux pitch – about 10m or so of very steep ground – and I had my back wedged against a rock wall as I placed an ice screw when I heard the first scream.
It started indistinctly, slightly muffled, but quickly came sharp into focus. It pierced through the mist – the most visceral, awful sound.
People talk about bloodcurdling screaming and for the first time I understood. That noise sent a stream of cold blood around my veins and chilled the back of my neck.
My first thought was simple but terrible: I was listening to someone who had just watched a loved one – not simply a climbing partner, but a loved one – fall to their death. There was so much pain and loss in that dreadful noise.
I froze for a moment, barely breathing, still perched on that vertical wall. I wasn't in a secure position, hanging off a few millimetres of metal hooked into the ice. At that moment I just wanted to be gone – off the climb, off the mountain.
This screaming had brought home to me the possible consequences of getting something wrong, of making a mistake. That was honestly what I'd thought I'd heard – the consequences of someone getting it very wrong and losing their life.
But there was no way to make a quick retreat – the fastest way out of this gully was up. I finished the crux and secured myself to three solid ice screws and brought my partner up.
We discussed the screams, trying to work out where they had come from, speculating on what might have happened, and agreed we needed to finish our climb as quickly as we could.
We completed the final, easier pitch, and ended up on the Ben Nevis plateau in the mist, in complete silence. –Source: BBC News
This strange report comes to us from the BBC News and reminds me of other mountain stories from the area around Ben Nevis.

The Sottish mountain side is filled with folklore and tales of strange creatures, mountain monsters, that for years have scared the weary traveler. Or in this case, climber.
Take a look at an article I wrote a few years back titled "FEAR LIATH: SCOTLAND'S MONSTER". Here's an excerpt:
It's said that in the summit of Scotland's Ben Macdui dwells a creature described as "The Greyman". A tall bipedal monster with short gray hair, who stalks the climbers who dare ascend to the summit. Reports of this creature date back to the late 1800s, when scientist and avid climber John Norman Collie had an unnerving experience. Collie, in a 1925 annual meeting of the Cairngorm Club, came forward with his terrifying encounter: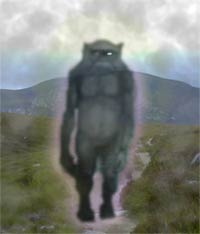 "I was returning from the cairn on the summit in a mist when I began to think I heard something else than merely the noise of my own footsteps. For every few steps I heard a crunch, and then another crunch as if someone was walking after me but taking steps three or four times the length of my own. I said to myself this is all nonsense. I listened and heard it again but could see nothing in the mist. As I walked on and the eerie crunch, crunch sounded behind me I was seized with terror and took to my heels, staggering blindly among the boulders for four or five miles nearly down to Rothiemurchus Forest. Whatever you make of it I do not know, but there is something very queer about the top of Ben Macdhui and I will not go back there myself I know."
The BBC article by Christopher Sleight tells of the group of climbers who were near (geographically speaking) the Ben Macdui mountain tops. The same mountains in which John Norman Collie (Climber & Scientist) recounted the terrifying tale in 1925.
What caused the bloodcurdling screams ?
According to the BBC article, the climbers contacted Lochaber Mountain Rescue and informed them of the screams heard by several climbers that day. After the rescue team checked, they were unable to find any trace of a casualty near the area.
Could it have been the fabled 'Greyman' of the Scottish mountains?
8 comments