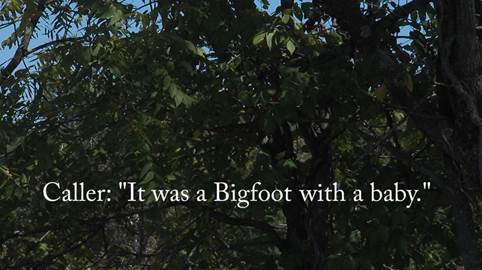 ABC 13 is reporting on a very peculiar 911 call made a week ago by an anonymous woman claiming to have seen a Bigfoot and her offspring on September 9th near Route 43 in Bedford, Virginia.
According to the news site, the woman had recently moved to the area and did not want to get a reputation in the town. She chose to report her sighting anonymously to the local sheriff's  station.
"I know this is going to sound crazy," said the woman in a  call to Bedford dispatch on September 9.

The woman told the dispatcher she was driving up Route 43, toward the Peaks of Otter, around 11:40p.m. on September 9.  She said her headlights hit something strange past Turkey Mountain Road, just before the first bridge.  This is part of her conversation with a dispatcher on September 11.

Caller: "I know this is going to sound crazy, but I went back and checked and there were prints, a Bigfoot with a baby."

Dispatcher: "There were what?"

Caller: "It was a Bigfoot with a baby."

After assuring the dispatcher she hadn't been drinking, the woman offered no explanation why she waited two days to call.  She says she went back in daylight.

Caller: "I did see some footprints and the stride was longer than anything I could make."

The woman says the creature's footprint was bigger than her two feet together, end to end.  She wears a size 8 shoe.  She says the creature was holding its baby the way a human would.

Caller: "The baby was looking right at me."

The woman told ABC 13 the baby looked just like Chewbacca from "Star Wars".

Caller: "Have you ever gotten other reports like this?"

Dispatcher: "I've never had a call like this in my life." –Source: ABC 13 Virginia
Listen to the 911 call that was made a few days after the sighting.
4 comments