"On the 23rd Aug. 1974 at 9 o'clock I saw a U.F.O." – John Lennon
Standing naked on the balcony of his 53rd street penthouse, Lennon stood in complete shock at the sight of a flying craft, hovering just feet above him. A strange metallic craft that sailed silently across New York's rooftops.
The ex-Beatle had seen his fair share of strange and trippy things throughout his life, however on that sobering hot evening, at precisely 9:00 P.M. John Lennon and his lover became part of a small group of New Yorkers that witnessed an Unidentified Flying Object directly above the bustling city.
"I was lying naked on my bed, when I had this urge," he said. "So I went to the window, just dreaming around in my usual poetic frame of mind […] There, as I turned my head, hovering over the next building, no more than 100 feet away was this thing with ordinary electric light bulbs flashing on and off round the bottom, one non-blinking red light on top." -Source: UltimateClassicRock
John Lennon was spending time with his lover and former assistant May Pang when the sighting took place. Lennon called out to Pang, asking her to step out and witness the incredible scene. It was a moment neither of them would forget and to make sure, John Lennon immediately started sketching what he had seen that August evening in Manhattan.
---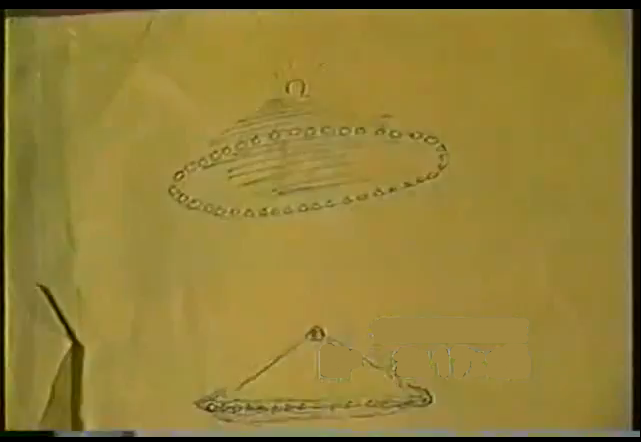 "There's UFO's over New York, and I aint too surprised…" – Lyrics from 'Nobody Told Me', from the  album Milk and Honey
The sketch above was done shortly after Lennon's sighting that hot August evening. He sketched it out on a large manila envelope that May Pang has kept throughout the decades. The drawing of the craft was similar to what many callers had reported to the NYPD.
"We often had helicopters flying above us but this was as silent as the night and about seventeen storeys above street level." The object flew off but returned later, by which time she and Lennon had set up a telescope through which they could view it in more detail.

"The light was so brilliant coming from the craft that no additional details could be seen. We did take a couple of pictures but they turned out overexposed."

They also rang a local newspaper to report the sighting and were told at least seven other people had seen the UFO too.

"We even called the police, that's how excited we were, and they told us to keep calm, that others had seen it too." During what was left of the evening, John kept saying, "I can't believe it… I can't believe it… I've seen a flying saucer!" –Source: UFO evidence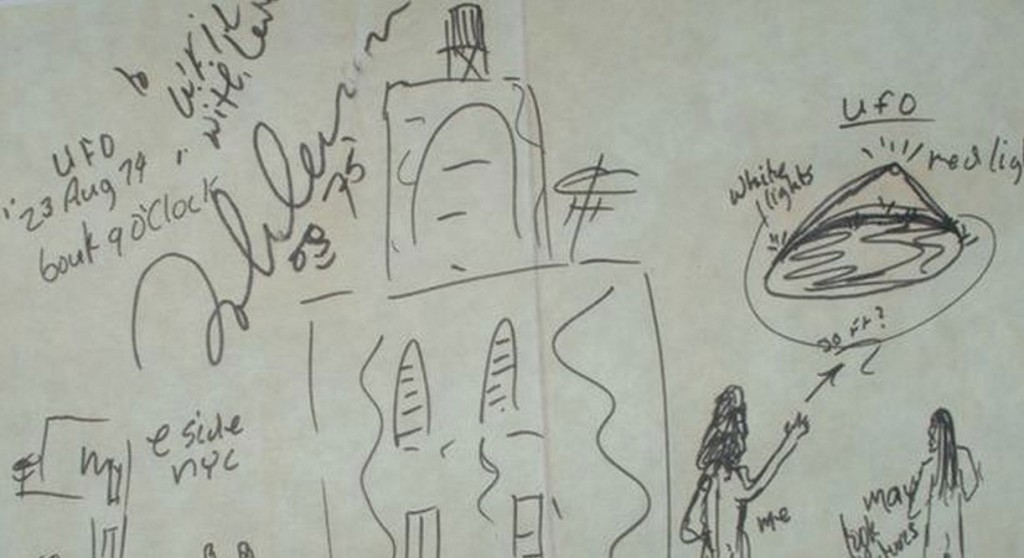 During an interview, May Pang, would later describe the moment in great detail. Claiming that what she and John Lennon witnessed that day was real and was something that looked out of this world.
I yelled back that I would be right there, but he kept screaming for me to join him that instant. As I walked out onto the terrace, my eye caught this large, circular object coming towards us. It was shaped like a flattened cone, and on top was a large, brilliant red light, not pulsating as on any of the aircraft we'd see heading for a landing at Newark Airport. May says she and John stood there mesmerized, unable to believe what they were in the process of observing. When it came a little closer, we could make out a row or circle of white lights that ran around the entire rim of the craft – these were also flashing on and off. There were so many of these lights that it was dazzling to the mind. Spellbound, the couple watched the UFO move directly over the building next to where they resided. It was, I would estimate, about the size of a Lear jet and it was so close that if we had something to throw at it, we probably would have hit it quite easily.

During the time that it was almost directly overhead, May says that she didn't hear any noise. We often had helicopters flying above us, but this was as silent as the night, seventeen stories up above street level. Finally the object passed from view, leaving John and May feeling that the excitement was over for the evening. But as it turned out, the UFO returned and they managed to set up a telescope and view it that way. The light was so brilliant coming from the craft, May recalls, that no additional details could be seen' We did take a couple of pictures but they turned up overexposed. Immediately John and May telephoned the Daily News, and were told that at least 7 other reports had been received.

We even called the police – that's how excited we were -and they told us to keep calm, that others had seen it too. According to May, all night long, John kept saying I couldn't believe it! I can't believe it…I've seen a flying saucer! As confirmation of his sighting, John wrote down what he saw and used it as part of the cover art on his Walls and Bridges album. John had always had an interest in UFOs, May Pang points out. He even used to subscribe to a British UFO Magazine, the Flying Saucer Review. But after seeing what we saw that night, he became even more fanatical, bringing up the subject all the time." –Source: UFO evidence



4 comments