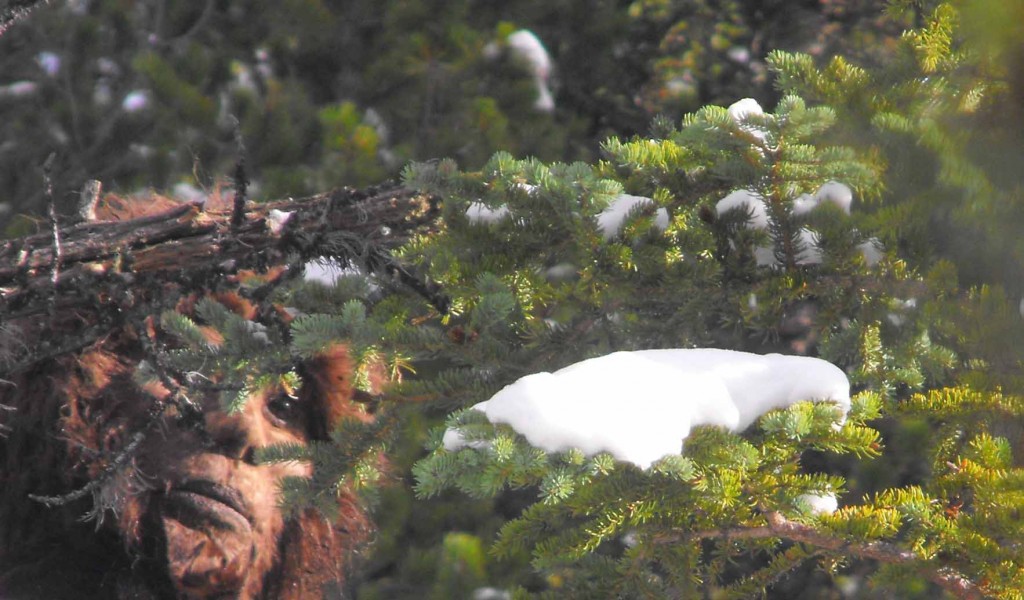 One of GhostTheory's most controversial person is back creating headlines. Breaking the news, reader "Deana" has just informed us that Todd Standing is back from an 8 day trip to his mysterious and "unknown to man" forest he calls "Sylvanic".
If you follow GhostTheory, you should be familiar with Mr. Standing. We've interviewed him before, the GT community has weighed in (heavily) on his previous video evidence. Now, it seems that Mr. Standing has another piece of evidence in which he hopes will help to once and for all prove his claims of the mysterious forest and its Bigfoot that inhabit it.
Pictured above, is the latest evidence Mr. Todd Standing presents onto the world. An image of a Bigfoot which he captured in Sylvanic during his 8 days.
From his website:
Todd just returned from an 8 day expedition with incredible Bigfoot documentation. It was a bit of an adventure as he had a confrontation with a Grizzly bear that ended in rescue by RCMP and Search and Rescue after being missing for 3 days. The team and his family are thrilled he made it back safely and he is ecstatic with his new photo and video evidence!

Here is one of the photos where he caught Bigfoot watching him through the bushes~as you can see it was taken in full sunlight with fantastic detail.

More will follow shortly; Todd has just returned a couple of days ago and is recuperating with his family. We can't wait to see his new video!
The above photo is said to be one of the few captured of these hairy beasts. I've never encountered a Bigfoot, but why does it seem like it just did an 1/8 of shrooms?  Eyes look suspiciously dilated. Skin looks sweaty, waxy almost. Hmmmm…..
The statement claims that there will be new video evidence presented in the upcoming days. With very little more to go on, we must wait for Standing's recuperation in order to get the rest of the videos. What do you think he has in stock?
Video of a "Sylvanic Bigfoot" which was released earlier this year:

120 comments