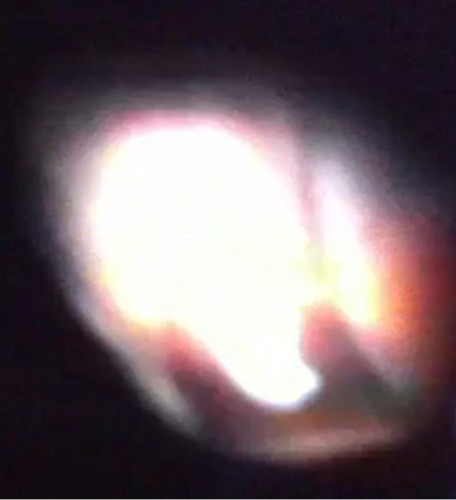 As much as I try to avoid these daily reports, I still can't help taking a peek. This morning while perusing the new entries of the day, I ventured upon case #43653.
Of course we all know that these reports should be taken with a grain of salt, but occasionally there appears a candidate which I can't allow to pass. This is just such a case.
There are many reasons to dismiss this guy and I'm sure many of you will do just that, however, I took a little time to pull some stills and do a little adjusting. If this person is telling the truth, it's obvious that his UFO has some sort of structure to it.
With that said, lets take a look at his video and then we can examine some stills.
Note: I was forced to put it on autoplay as no amount of code change would make the controller appear. You can see the controlled version here.
Mufon case: #43653
Date of event: 11/01/12
Location: Rogers, AR
Here's the commentary from the witness:
My son initially reported he saw a strange light outside. Then our entire family saw a second light flight overhead about five minutes later. I grabbed my digital video camera before the third one flew over five minutes later. To the naked eye, these appeared to be spinning, orange colored flames, without any sound. When you see the magnified video, the flames appear to have a square structure around them. These lights did not have a flashing strobe lights you see on aircraft, and didnt fall like you a flare would. Im going to upload video and a still photo of the video. I recorded the video with my iPhone, as I displayed the original video on my tv. The date stamp on the video is off by one day. This actually occurred on November 1, 2012.
His description is somewhat of a jumbled mess, but if he's being honest, he may also be on edge.
As I said, I took some stills and blew them up. As you can see, there is a definite structure to this UFO.
Now, I am by no means endorsing this as something from an ET source. Furthermore, Mufon is a prime dumping ground for hoaxers, but this case is somewhat interesting. It's unfortunate that Mufon clams everything up so you can't get any info.
The best I can do is present the event and let the reader loose on it.
Of course, my source for this case is MUFON.
Associated Content:
GT: Video: What Is This Bizarre Anomaly? (New Video Update Added)
GT: Update: New Info On Hotly Debated Freedom Tower UFO
GT: Bell shaped UFO spotted
2 comments