Home » Archive by Author
Articles by Scott McMan
I grew up in rural NWPA, surrounded in forest. I took an early interest in cryprozoology and sharks and have read many books on various crypto subjects such as Bigfoot and Megalodon over the years. I am not a professional writer or a journalist, but I do the best I can. I have a quirky, obscurely dry and sometimes sarcastic sense of humor than can get me in trouble. Some love me and some hate me, but I am who I am.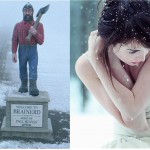 "This is a true story. The events depicted in this film took place in Minnesota in 1987."
Many of you recognize that from the opening of the film Fargo. Still more remember it from last weeks …
Fort Mifflin is an historic site steeped in not only American history, but paranormal activity. Originally commissioned in 1771, the fort is located on the Delaware river, just below Philadelphia. Early in it's history it …
When I turned 12 many moons ago, it was near the start of buck season in NWPA. Growing up in a small rural town surrounded by the Allegheny National Forest, I'd spent much of my …
I have to tell you, this one gave me a shiver. One of my favorite new bloggers is Susan Duclos of 'Wake Up America'. Susan often finds those needles in the haystack that others miss. …
You read that right! This one is hot off the wire today as a woman in Chile claims to have photographed something that seems quite impossible.
This story is coming to us from Scott Corrales over …
While I am not very impressed with many UFOs these days, there are exceptions now and then. This being one that has me thinking a bit.
The name Stephen Hannard may ring a bell and that's …
On October 24th, Josh Highcliff was out hunting hogs near Tunica, Mississippi. What happened that day is something that scared and confused Josh. Suffice it to say, he is desperate for an explanation.
Here is exactly …
A Banshee is said to be a female spirit from the other side who is purported to be an omen of death. Banshees have been reported since 1380 and Irish legend has it that some …
I've gone through a lot of MUFON CMS entries and know that MUFON is going to snatch up all the best and stash them until they are satisfied. This is one that I grabbed up …
Last night on MuldersWorld, I threw up a weird vintage photo that reminded me of something Xavier started way back in 2010. Strange vintage photos with a surreal twist that make your skin crawl.
Now comes …
Telekinesis or Psychokinesis is the quite simply the ability to move solid matter with the power of the mind. It is most often associated with adolescent girls who are entering puberty and is thought to …
It appears Mothman shows up all over the world and why not? I mean, it is supernatural, right? Actually, it could be anything, even a Barn Owl for all I know. However, avid readers of …
Brigadier General, James McDivitt, USAF Retired, was the commander on the Gemini IV mission among others. However, it was on that particular space flight in June of 1965 that McDivitt saw what he described in …
A Chinese village has been under siege recently, held hostage by a rodent.
Villagers in Shaoyang, in China's Hunan Province have been terrorized by a giant rat, nicknamed, "Ratzilla". The unnatural freak rat kept them on …